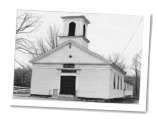 On May 14, 1842, forty-one people applied to the First Baptist Church of Waterford for permission to form Lakes Pond Baptist Church. At that time, the area around the church was called the Lake's Pond region of Waterford as the nearby Lake Konomic reservoir was then owned by Mrs. Margaret Lake and was referred to as Lake's pond. When LPBC was started it was named after the area where the church was located.
They met in a nearby school until October of 1843 when they discussed plans to build a small church building at 1144 Hartford Road. On May 29, 1844 the new church was dedicated. A vote was taken in 1963 to construct an addition onto the rear of the church building. In 1964 it was completed, adding classrooms, a kitchen, a nursery, and bathrooms to the existing structure.

Pastor Everett Hunt was called to the pastorate in 1967. At that time there were only three families attending the church. The church began to grow under his leadership to the point where the auditorium was consistently filled to overflowing.  As a result, the current auditorium, fellowship hall, and nursery were built in 1977. Also during his ministry, the Lord burdened Pastor Hunt to begin a Christian School. Baptist Bible Academy opened its doors in 1977.
Pastor Douglas Meader was called as assistant pastor under Pastor Hunt in 1991. When Pastor Hunt retired in 1997, Pastor Meader took over as the senior Pastor of LPBC. In 2001, the new school building was put up in the field south of the church building. Pastor Meader continues to shepherd the flock at Lakes Pond Baptist Church.
Scripture
We believe that the Bible is the inspired, infallible, inerrant Word of God. We believe it has been preserved for us in the English language through the King James Version of the Bible (2 Timothy 3:16; 1 Peter 1:21).
God the Father
We believe in one God who is eternal, self-existent, all-knowing, all-powerful, omnipresent, and unchangeable. We believe He is manifested in three person: the Father, the Son, and the Holy Spirit. We believe that these three are one (Deuteronomy 6:4; 1 John 5:7).
God the Son
We believe that Jesus Christ is the Son of God and the Savior of the World. We believe He possess all of the attributes of deity and thus is fully God. We believe that in the plan of God He came to earth was born of a virgin and became fully man and fully God. We believe He lived a sinless life and shed His blood in His death on the cross as the payment for man's sin. We believe He was buried and rose again on the third day. We believe He ascended back to Heaven and is now seated on the right hand of God awaiting His return (John 1:1, 14; Romans 5:8-9; 1 Corinthians 15:3-4; 2 Corinthians 5:21; Ephesians 1:20; 1 John 4:14).
God the Holy Spirit
We believe that the Holy Spirit is a person and possess all the attributes of Deity. We believe that the Holy Spirit has been working in the world since its creation. We believe that the Holy Spirit's ministry to believers is that of regeneration, indwelling, and sealing.  We believe that the Holy Spirit convicts the world of sin, righteousness, and judgment (Genesis 1:2; John 3:5; John 16:1-3, 8; 1 Corinthians 6:19; Ephesians 1:13-14).
Salvation
We believe that all men were born with a sin nature and are sinners by choice. We believe man is unable to save himself from his sin. We believe the only hope for salvation is Jesus Christ. We believe that Jesus Christ shed His blood through His death on the cross, paying the penalty for man's sin. We believe that salvation is offered as a free gift to man through faith in the atoning work of Jesus Christ. We believe that those who do not accept the salvation offered in Christ are already condemned to an eternity in the Lake of Fire (John 3:16-18; John 14:6; Romans 3:23-25; Romans 6:23; Ephesians 2:8-9; Revelation 20:15)
The Church
We believe that the local church is an institution ordained by God to carry out His work. We believe that church membership is based upon salvation and baptism by immersion (Matthew 16:16-18; Acts 2:41).
End Times
We believe in a pre-tribulation rapture of the church. We believe in a pre-millennial return of Christ and a literal thousand year reign. We believe that God will create a new heaven and a new earth where saints will live in His presence for eternity (1 Thessalonians 4:13-17; Revelation 11:15; Revelation 21:1).